Having a smartwatch can benefit you in many ways. From checking the time to keeping track of your health, it can do it all. One of the newest smartwatches that are worth knowing about is NoiseFit Endure. It is packed with many great features that make it the best smartwatch within this price range.
Notable Features of NoiseFit Endure Smartwatch
NoiseFit Endure is a budget-friendly smartwatch with all the right features you would want in your smartwatch.
Superior Built & Lightweight
The stainless steel bezel and the robust aesthetics make it one of the best choices. It comes with leather-silicone straps that give you the perfect fit for the daily grind. Despite the stainless steel-made bezel, the smartwatch is lightweight.
Long Battery Life
One of the best things about NoiseFit Endure is the battery backup. It comes with 20-days battery life on a full charge, and an additional 30 days on standby. It is provided with a magnetic dock charger that helps in quick charging.
Multiple Sports Modes
With this amazing smartwatch, you can keep a track of your workout performance. It comes with 9 different sports modes to accommodate your needs.
Besides that, it has a heart rate monitor, sleep assistance, and calorie tracker. It also has a special mode called Breathe mode that helps you calm your nerves through guided deep breathing.
Waterproof
This smartwatch is waterproof which means you can wear it outdoors without any worries. It is waterproof up to 1.5m and comes with an IP68 rating.
SpO2 (Blood Oxygen) Monitoring
Another feature that is worth mentioning is the SpO2 monitoring. The blood oxygen monitor helps you to keep track of your health.
NoiseFit Endure Detailed Tech Specs
Specifications
Brand
Noise
Product Name
NoiseFit Endure
Product Dimensions
45mm X 46mm X 12mm
48g
Dial Shape
Round
Screen Size
1.28 inches
Screen Type (Display)
Capacitive (240 X 240) TFT HD LCD display
Colours
Charcoal Black
Teal Green
Racing Red
Classic Black (No longer available)
Tan Brown (No longer available)
Strap Material
Silicone Strap
Fused Leather (Classic Black and Tan Brown only)
Interchangeable Strap
Yes
Weight
48g
Battery Capacity
460mAh
Battery Life
Up to 20-Day
Standby: 30 Days
Charging Time
Upto 2 Hours
Charging Type
Magnetic Dock Charging
Connectivity
Bluetooth 5.0
Sweat & Water Resistance
IP68
1.5m Water Resistant
Sensors
Heart-rate (PPG), Blood Oxygen Monitor (SpO2), Sleep Monitoring, Acceleration
9 Sports Modes
Walking, Running, Cycling, Skipping, Badminton, Basketball, Football, Yoga, Workout
Watch Faces
100+ Cloud Watch Faces
Features
Breathe Mode
Weather Updates
Camera Controls
Find Device
Call and Text Notifications
Alarm and Timer
Do Not Disturb Mode
Steps, Distance and Calorie Monitor
Menstrual Cycle Tracking
Continuous Heart Rate Detection
Quick View (turns on the display when you raise your wrist to look at the screen)
Compatible OS
Android 5.0 and above
iOS 9.0 and above
Call Alert
Yes
Music Control
Yes
Blood Oxygen Level Monitoring
Yes
Pedometer (steps counter)
Yes
GPS
No
Always on-screen
No
Mic
No
Companion App
Da Fit (Android | iOS)
Latest Firmware Version
MOY-TDN3-1.8.2
Warranty
1 Year
What's in the Box
NoiseFit Endure Smartwatch
Charging Dock
User Manual
Price in India
₹2799
How to Buy
Amazon | Flipkart
Review and Ratings
Amazon: 3.8 / 5
Flipkart: 3.9 / 5
Tech Specs of NoiseFit Endure
Note: NoiseFit Endure Classic Black and Tan Brown models are no longer available for purchase.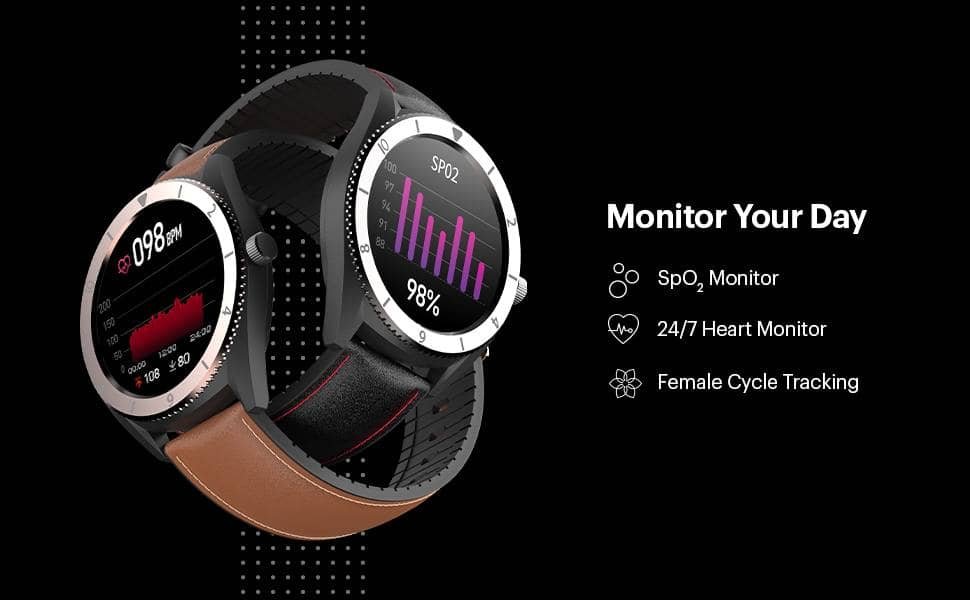 How to Update NoiseFit Endure Smartwatch?
Open Da Fit app on your phone and connect your NoiseFit Endure smartwatch.
Go to Device (by taping the middle icon ⌚ in the bottom of the screen). On this screen tap "Upgrade".
Now follow onscreen instructions to update your watch to the latest firmware.
If your watch is up-to-date, you'll the latest NoiseFit Endure firmware version and Device ID on this Upgrade screen.
What is the Latest NoiseFit Endure Firmware Version?
You can update your smartwatch using the steps mentioned above. The latest NoiseFit Endure firmware version is MOY-TDN3-1.8.2.
We'll update here when new firmware version is rolled out.
NoiseFit Endure price starts from ₹2,799. It is an affordable smartwatch with the health and fitness features. It makes the perfect choice for health-conscious people and fitness freaks.
If you have any query or want to share your thoughts, please use the comments section below. We'd love to hear from you guys!